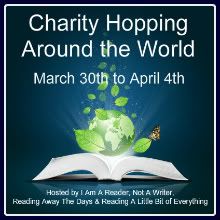 We here at The Revolving Bookcase are so excited to be participating in the Charity Hopping Around the World Blog Hop! I especially love the theme of this hop because each participant will be showcasing one of their favorite charities. My favorite charity is
Perfect Pets Rescue
and going along with that theme, we'll be giving away 3 dog-related books! Winners will be drawn at random and will be announced by e-mail and on our website on April 5th. Thanks so much to
I Am a Reader, Not a Writer
,
Reading Away the Days
, and
Reading a Little Bit of Everything
for hosting such a great hop! Be sure to check out every blog on the hop by clicking on the list at the end. Good luck!
The Charity: Perfect Pets Rescue, Inc
is a charity that holds a special place in my heart because they are the people who rescued and brought my dog Ollie into my life just about a year ago. They are a non-profit 501(c)3 animal rescue licensed by the Georgia Department of Agriculture. They rescue dogs and cats from high-kill shelters in Georgia, quarantine and vet them completely and transport them to New York, where they are fostered by some great people while awaiting adoption into their forever homes. They are entirely run by dedicated, animal-loving volunteers and rely on donations to fund the rescues. I wouldn't have my Oliver without them and I am so grateful there are such wonderful, caring people out there doing what they do every day. If you live in the upstate NY region and are looking to adopt a pet, please go check out the available animals on their site!
The Giveaways!!
We are giving away THREE dog-themed (well, two dog-themed and one dog-inspired title) books for this special giveaway! You may enter for one or all of the drawings. Just fill out the form below (sorry, US entrants only). Good luck!
(hardcover edition)
Synopsis:
John and Jenny were just beginning their life together. They were young and in love, with a perfect little house and not a care in the world. Then they brought home Marley, a wriggly yellow furball of a puppy. Life would never be the same.
(hardcover edition)
Synopsis:
The #1 New York Times-bestselling author presents a riveting novel where a canine search and rescue volunteer fights danger and finds love in the Pacific Northwest wilderness.
(paperback, ARC)
Synopsis:
Do not let a mop sit overnight in water. Fix things before they get too big for fixing. Custodial wisdom: Mattie Breen writes it all down. She has just one week to convince Uncle Potluck to take her on as his custodial apprentice at Mitchell P. Anderson Elementary School. One week until school starts and she has to be the new girl again. But if she can be Uncle Potluck's apprentice, she'll have important work to do during lunch and recess. Work that will keep her safely away from the other fifth graders. But when her custodial wisdom goes all wrong, Mattie's plan comes crashing down. And only then does she begin to see how one small, brave act can lead to a friend who is hound dog true. (ages 9-11)
The Full List of Blogs on the Hop: