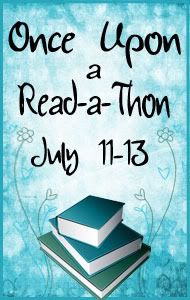 Day One of the Once Upon a Read-a-Thon is drawing to a close and despite my best efforts, I've gotten relatively little reading done. I did manage a few pages of
Miss Peregrine's Home For Peculiar Children
while outside with my dogs this morning and while waiting in the lobby of Time Warner Cable. And then this evening I've read about 5 chapters of Jill Shalvis
' The Sweetest Thing.
I hope to get in at least another hour of reading before bed, and I'm looking forward to Wednesday when I have the day off and plan to read outside in my hammock for at least half of it. I did manage to stop by
The Musings of ALMYBNENR
and do a fun mini-challenge on book covers. I'm very excited about the possibility of winning one of the books she is giving away...choosing which one might be tough though.
If you haven't signed up for the read-a-thon, there's still time! Just click on the picture above and happy reading!